It's become clear to me that Trump is motivated by his own personal investment priorities, and those of his partners, and it comes as no surprise that Trump mirrors his domestic policies to broadcast his displeasure with obstacles to profits abroad, and meddles in election processes and local ordinance such as WATER SAFETY, or any other ordinance in order to punch out a piece of real estate. Grab that by the pussy.
US-Philippines Society Board of Directors
Jose Eduardo B. Antonio
Century Properties Group, Inc.
Chairman
The real estate magnate established the Philippine-China Business Council when he served as a special envoy with the rank of ambassador to China in 2005.
Read more: http://newsinfo.inquirer.net/841660/century-properties-chair-ceo-antonio-is-special-envoy-to-us#ixzz4g1LomkFU
Follow us: @inquirerdotnet on Twitter | inquirerdotnet on Facebook
Gerardo Borromeo
Philippine Transmarine Carriers, Inc.
Vice Chairman and CEO
Leonardo A. Canseco
Canseco Law Group
Jay Collins
Citigroup
Co-Head, Public Sector Group
Cezar P. Consing
Bank of Philippine Islands
President and CEO
Ambassador Jose L. Cuisia, Jr.
Philippines-U.S. Business Council
Chair
Hilda L. Gigioli
Roccomar, Inc.
President
Andrés R. Gluski
The AES Corporation
President and CEO
Henry B. Howard
US Education Finance Group
President and CEO
Ambassador Thomas C. Hubbard
McLarty Associates
Director for Asia
Loida Nicholas Lewis
TLC Beatrice LLC
Chairwoman and CEO
Roberto R. Llames
Enterprise Solutions, Inc.
President and Founder
Doris Magsaysay-Ho
Magsaysay Group of Companies
CEO
Ambassador (ret.) Richard W. Murphy
Murphy and Associates
Cirilo "Vic" P. Noel
Sycip Gorres Velayo & Co.
Chairman and Managing Partner
Christopher A. Padilla
IBM
Vice President for Governmental and Regulatory Affairs
Roberto L. Panlilio
JP Morgan Chase
Senior Country Officer for the Philippines
Dominic Picone
TPG Capital
Principal and Head of Asia Financial Services
David Rappa
Adalta Capital Management
Managing Partner
Enrique K. Razon, Jr.
International Container Terminal Services Inc.
Chairman of the Board and President
Ambassador Roberto R. Romulo
Carlos P. Romulo Foundation for Peace and Development
Chairman
Magesvaran Suran Suranjan
Procter and Gamble
President, Asia Pacific
Teresita Sy-Coson
SM Investments Corporation
Vice Chairperson
George SyCip
Spence & Co., Ltd. (US), Alliance Select Foods International Inc
Director and Chairman of the Board
Charles A. Taylor
Chevron
Managing Director for IndoAsia
Ambassador Frank G. Wisner
Squire Patton Boggs
International Affairs Officer
Dennis Wright
Peregrine Development International
President and CEO
Jaime Augusto Zobel De Ayala
Ayala Corporation
Chairman and CEO
EDCA, former admin position
Trump and Pence in Indonesia
Trump's second call to Duterte re: ASEAN shit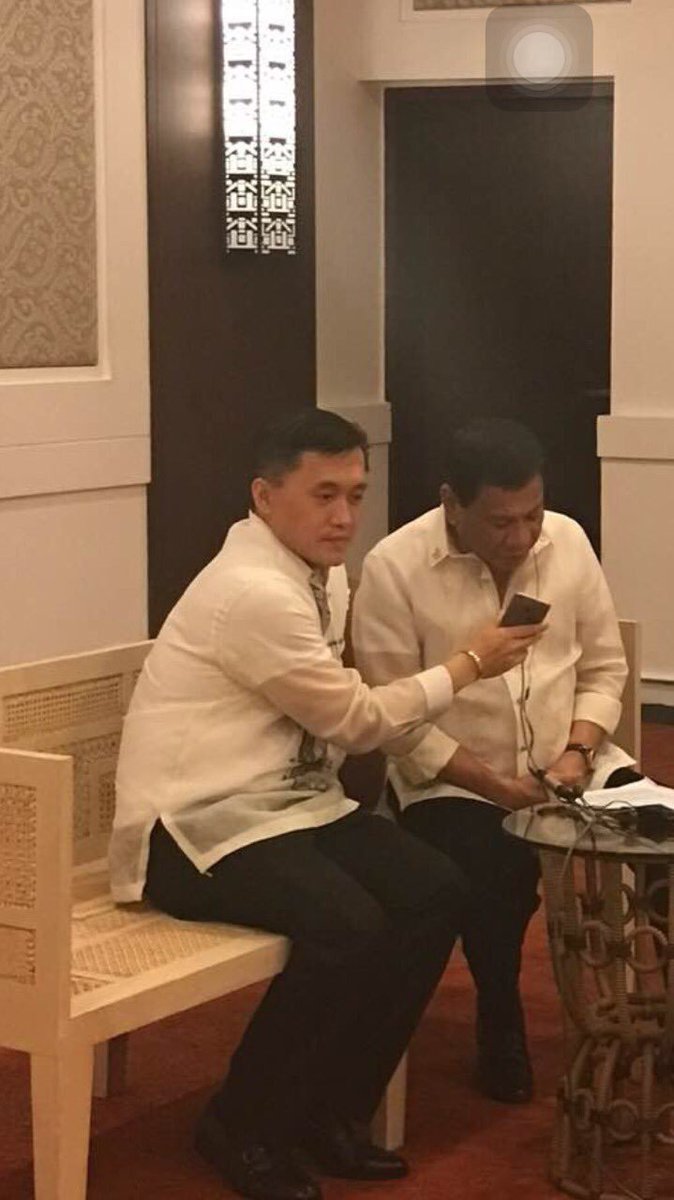 https://qz.com/837564/rodrigo-duterte-is-flying-an-unusual-route-to-perus-apec-summit-to-avoid-landing-in-the-us/
http://news.abs-cbn.com/news/04/20/17/us-vp-pence-trump-coming-to-ph-for-asean-in-november
Trump endangers Duterte's drinking water. Horrible. Trump wants to build a housing development in the drinking water.
Century Communities Corp. seeks to build the 58-hectare (143-acre) housing project within the 2,000-hectare (4,942-acre) La Mesa Watershed in the capital. It is the source of metropolitan Manila's drinking water.
"That's the watershed of 12 million people and I cannot see the possibility that a business interest is more important than the water our people drink," said Environment Secretary Regina Lopez
Watershed, lol. He wants to build tenement housing in people's water.
THE VICE PRESIDENT:  Good afternoon.  This is my first visit to the Asia Pacific as Vice President of the United States, and I bring greetings from the President of the United States, President Donald Trump.

And it is such an honor to be here today at ASEAN, the Association of Southeast Asian Nations.  Since 1967, ASEAN has fostered friendship and economic integration between its members.  It's helped forge regional cooperation to tackle common challenges.  It's promoted prosperity and security — not just for ASEAN and its members, but for the Asia Pacific as a whole.

I want to thank the chargé d'affaires, Jane Bocklage, for that kind introduction.  Thank you for faithfully representing the United States of America to ASEAN.  The President and I are grateful for your work.

I also want to thank Secretary General Minh and Chairwoman Buensuceso and the ASEAN permanent members who are here with me today.

I was grateful to have the opportunity to meet with each of you today and appreciate our discussion about our shared values and shared opportunities.

Today on President Trump's behalf, I'd like to congratulate ASEAN on its 50th anniversary.  This year also marks the 40th anniversary of the United States' diplomatic relationship with ASEAN.  Our relationship without a doubt has benefitted both ASEAN and America — diplomatically, economically, and from the standpoint of national security.

The relationship between the United States and ASEAN is a strategic partnership.  And under President Trump's leadership, the United States is already taking steps to strengthen our partnership with ASEAN and deepen our friendship.

I spoke to President Trump this morning, and he gave me the great privilege to inform the Secretary General and the permanent members of ASEAN that the President of the United States will attend the U.S.-ASEAN Summit, the East Asia Summit, and the APEC Leaders Meeting in Vietnam and the Philippines this November.  (Applause.)

The President asked me to deliver this message directly to the leadership here at ASEAN and to express how enthusiastic he is to join the U.S.-ASEAN Summit during the golden anniversary year of this organization.

It is a testament to the value that President Trump places on the U.S.-ASEAN strategic partnership and the Asia Pacific as a whole.  And it's a sign, I hope, to all of our firm and unwavering commitment to build on the strong foundation that we already share.

By strengthening our economic ties, the United States and ASEAN member nations can foster jobs, prosperity, and growth in new and unprecedented ways.  American exports to ASEAN member nations already support more than 550,000 jobs in the United States, and almost 42,000 U.S. companies export more than $100 billion in goods and services to ASEAN nations every year.  At the same time, the United States imports a significant amount from ASEAN member nations, as well.  But amazingly, U.S. companies invest more in ASEAN and its members than any other part of Asia, nearly $274 billion, which is an investment — which is more, in fact, than our investment in China, India, and Japan combined.

Now to protect that prosperity and to ensure our continued growth, the United States will redouble our cooperation with ASEAN on issues of regional security.  The menace and the reality of global terrorism threatens all our nations.  And under President Trump, we will continue to support increasing information sharing and security efforts to protect our people and our way of life across this region and across the wider world.

We'll continue to work closely with ASEAN to promote peace and stability in the South China Sea by upholding a rules-based order, ensuring the lawful and unimpeded flow of commerce, and encouraging the peaceful and diplomatic resolution of disputes.  For 40 years, the United States has worked side by side with ASEAN to foster peace and prosperity on these seas and between our lands; and President Trump and I are confident that through our continued partnership, which even now, today, is growing stronger, together we will build on our firm foundation to reach even greater heights in the next 50 years of this great organization.

So I want to say thank you.  Thank you to the permanent members, thank you to the Secretary General for the warm hospitality today.  President Trump and I look forward to reaffirming our commitment to each of you in the days ahead, and I know he looks forward to seeing you all at the summits this November.

Thank you very much for giving me the opportunity to make this announcement.  It is an honor to be with you all.  (Applause.)

END